Psyllium Husk Powder: Gluten-free Product Boosts Brain Health
Do you often suffer from brain fog or fatigue? If yes, it's a call for you to adopt a gluten-free diet as gluten which is mostly found in wheat and other processed foods can hamper your health, as it can cause Celiac disease, and some of its symptoms include diarrhea and/or constipation, nausea, heartburn, and gut inflammation. The gut inflammation may increase vulnerability to brain health as it may cause Dementia, Alzheimer's disease and even Depression.
What is Psyllium Husk Powder?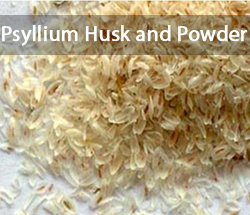 Psyllium is a form of fiber made from the husks of the Plantago ovata plant's seeds. This plant is commonly grown in India. It sometimes goes by the name ispaghula or isabgol. It is a gluten-free product and it is beneficial for the patients of Celiac disease. Some of its health benefits are listed  below:
It's effective as a mild laxative. Thus, it can regulate bowel movement and stimulate metabolism. It also contributes in weight loss.
It's also heart-healthy.  It may be helpful in optimizing cholesterol ratios and promotes good heart health. It may also aid in lowering the risk for heart disease by decreasing blood pressure levels, improving lipid levels and strengthening the heart muscle.
It can also improve skin health. The dietary fiber can help move yeast and fungus out of body, instead of being excreted through skin, where it can cause acne and rashes.
It is considered as Paleo- friendly food, as it has beneficial prebiotic properties as a soluble fiber source.
Psyllium Husk for Brain Health
Psyllium Husk can Boosts Concentration – Psyllium Husk Powder helps to improve concentration and mental health. It can reduce fatigue and increase energy levels to perform any activities with utmost focus.
It may help Protect Healthy Brain Function – It can help you to think clearly. It may lessen the impact of Dementia.
It can Enhance Memory and Mood – It enhances the cognitive functions of brain which includes problem solving, judgment, thinking, planning and organizing; and for many aspects of personality and emotional makeup.
It may Reduce Neurological Disease – The gluten sensitivity has profound effect on nervous system which may cause neurological disease. The intake of psyllium may reduce the harmful effects of gluten. It may minimize the effects of neurological diseases such as Alzheimer's disease, Parkinson's disease, and even autism.
Applying Psyllium Husk Powder at Home
It's also easy to increase your fibre intake by taking psyllium as a supplement in capsule form.
 Psyllium husk powder can be used by men, women (including before, during or after pregnancy, and nursing), children, and animals. Thus, it is a good idea for anyone trying to avoid gluten. It can be used as often as per requirement, and can also be included in or on foods.
Ideally, as per recommended dosage one should take 1-3 teaspoons twice daily (first thing in the morning and last thing at night) mixed well in a large glass of water or fresh fruit/veggie juice. You will need to drink it immediately as it will form a glutinous mass in the glass otherwise!
It is important to drink plenty of water with psyllium because it expands significantly.
These pieces of advice can improve your brain health, so open the doors to healthy life with psyllium husk powder. To give your brain an added boost you can include plenty of proven brain-healthy foods such as salmon, blueberries, kale, nuts, coconut oil, olive oil, and green tea.
Altrafine Gums is one of the leading procurers, processors and suppliers of Psyllium Husk Powder in India since past 36 years. We are supplying quality products which include Psyllium Husk Powder, Guar Gum Powder, Cassia Tora Powder, Locust Bean Gum Powder, Indian Spices & Seeds, Animal Feeds Products, etc to various industries such as Food, Textile, Tobacco, etc successfully. Our R&D department constantly works on the product innovation, product diversification and in discovering new processing techniques, and makes sure to provide germ free products to our well-regarded customers to boost their trust in us. We have also received the reward for our consistent hard work in satisfying our clients' specific requirements as we were awarded as the first winner of Gujarat as Biggest Exporters.