The Tamarindus Indica is a leguminous plant of the family called fabaceae. The plant was indigenous in the African continent, but later spread to other continents mainly to the Indian sub continent where is has grown for a long time.
Currently, India is the largest producer and exporter of the tamarind kernel products. It exports processed tamarind pulp to the European, Arabic and most recently to the American continent.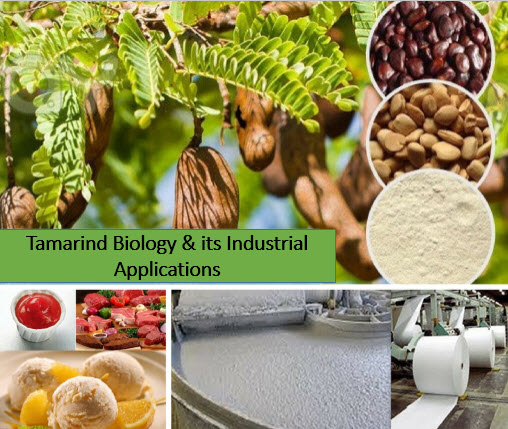 Biology
The plant is a perennial shrub that can grow up to a height of 18 meters, with the crown taking an irregular vase shape and has very dense foliage. It grows well in full sun. The flowers are inconspicuous, having red and yellow color with an elongated shape. The fruit is a fleshy and juicy pulp and maturity is noted by a brown and reddish color. The fruit is noted to have a sweet to sour taste that is high in tartaric acid, sugars, vitamins and calcium.
Chemical Constituent
The tamarind seed kernel is the source of important chemicals used in various industrial applications. The seeds are a rich source of proteins, with fats and oils comprising of up to 16 % of the total composition. The crude fiber percentage is low in the seed being approximately 20%, and tannins at level of 20%. Majority of the remaining component is carbohydrate going up to 57 %.
Industrial Applications
Gelling Properties
The seed kernels of the tamarind comprise of 48% of the gel forming polysaccharide, which can be referred as the jellose. It has the ability to form the gel in a wide range of PH, in the presence of sugars and alcohols and also in a range of temperatures. This is one of the major industrial uses of the tamarind kernel. Since the seed can be obtained in abundance, it is comparatively cheaper than other gelling agents in industry.
Food Additive
The usage of the tamarind as a food additive is mainly from its gelling properties. It is therefore used as a thickener, stabilizer in Ice creams, mayonnaise and cheese products. It is also used as an important element in rheological control in aqueous solutions.
Natural Excipient
An excipient is an inert substance used as diluents and carrier for drug delivery to the body. It also serves to protect the chemical ingredients from deterioration and disintegration. The Tamarind seed polysaccharide called the glycosaminoglycan and galactoxyloglucan, show good characteristics of natural excipient. They are stable suspending agents and can also be used as effective binders in tablet formulations.
Gluten Intolerant Persons
For people whose bodies cannot digest gluten, their diets must be free of any form of gluten mainly wheat based products. The gluten which acts as a dough binding agent can be replaced with the tamarind gum to produce the same effect. It is also high in lycine, and good for people with lycine deficiency.