Polysaccharides such as starch, cellulose, sesbania gum powder have now been extensively used in different industries and are used as water-soluble thickening agents in different industries that includes agriculture, oil industry, textile industry and many more. It is a white milky powder that is been extracted from sesbania seed. It is also used in incense.
Characterization of Sesbania Gum Powder
Sesbania Gum Powder is soluble in water, insoluble in ketones, alcohol, ethers and other organic solvents. In order to form a viscous solution, it can be dispersed into cold water that remains higher than other natural gum. It is anionic in nature and preserved easily due to its eco- friendly nature. It consists of some amount of concentration, having 5-7 pH value, with near about 10% moisture and 200 mesh of filtration.
Applications of Sesbania Gum Powder –
In the textile industry, sesbania gum powder is used as sizing agent and dye or coloring thickeners that has printing properties like good color yield, penetration, sharpness in prints, as well as it is cost effective. It plays a major role as a flocculant in water and waste-water treatment. It is also been used as a blocking agent, water resistance- reduction agent or tackifier in different industries.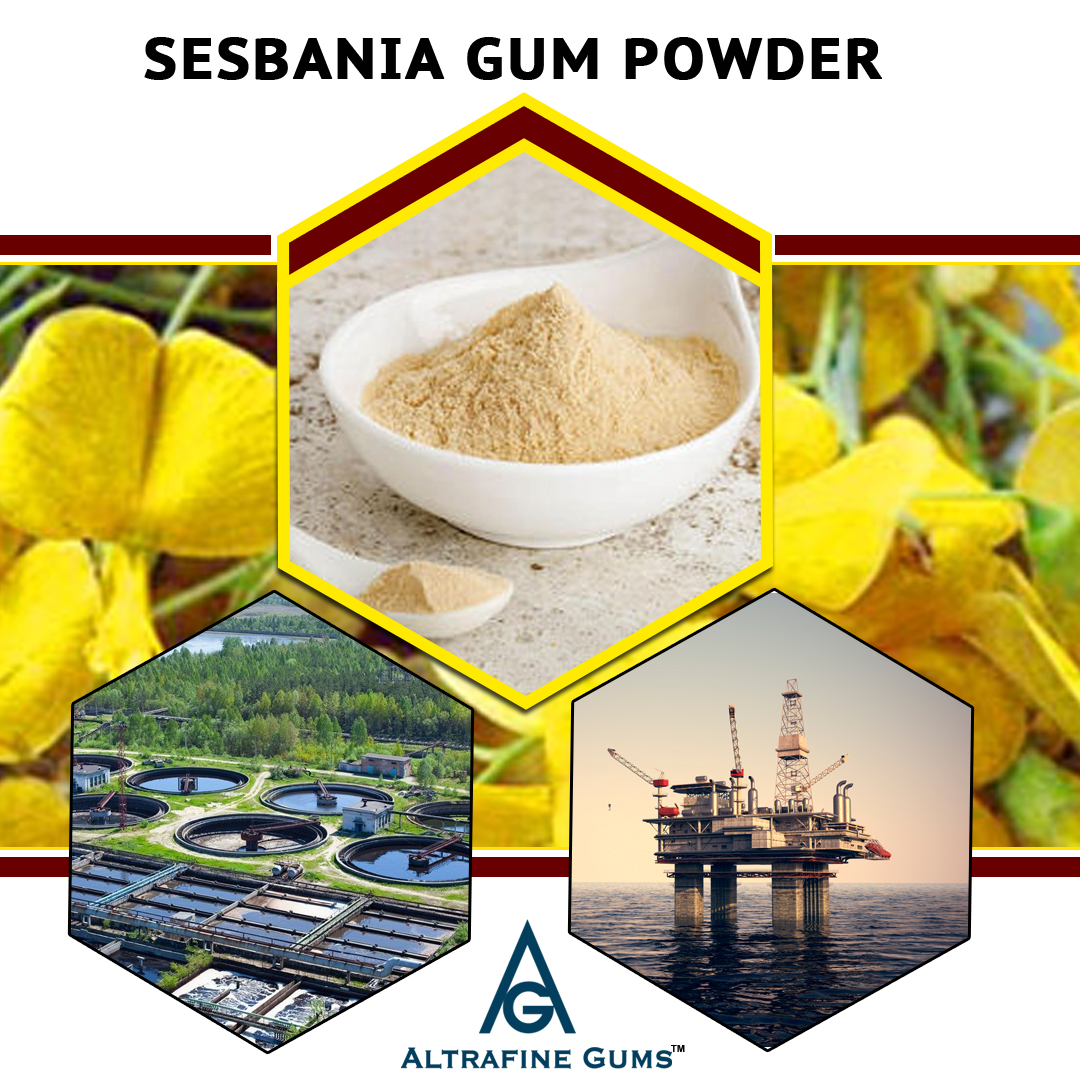 Sesbania Gum Powder in Textile Industry –
Initially, sesbania gum is been separated from the seed with a certain process. For the phosphorylation of the gum, the dry gum powder is been mixed with the solution phosphate salt in water and has been prepared with standard methods.  The printing paste for printing in the textile industry is been prepared with the combination of acid dye, urea, boiling water, sesbania gum powder that is used as a thickener and other wetting agents.
With the help of conventional screen printing technique, this printing paste is applied to wool, fabrics etc. Once printed, fixation of the goods is been done with the help of steam at a certain temperature. Further, washing of the fixed printed goods is been done with cold water following with different stages with the finished product.
Sesbania Gum Powder shows with its fastness properties like color fastness to washing, light, crocking, perspiration etc. Hence, printed goods were dried and assessed with its overall fastness properties.
There is a growth of the textile industry, so is the increase with the demand in sesbania gum powder. Altrafine provides high-quality gum powder for different industries. We provide our best product with accurate composition, ph value, high viscosity, solubility, and excellent surface tension. To ensure flawlessness, our product is checked on the various grounds of the industry. Along with this, we also offer different products that include guar gum powder, cassia powder, fast hydration guar gum powder, Psyllium husk powder and many more. Like sesbania gum powder, they are also been used in different industries having its different properties and functionality. We are also the provider for Indian spices and seeds as well as animal feed products. For more information, contact us today and get acquainted with our other gum products.