Guar is grown in several countries around the world. Countries like India, Pakistan, USA, Australia and Africa grow Guar. However, it is believed over 80% of the Guar production is from India. Guar Gum Powder that is grown in these countries has several useful properties and applications.
The important properties include thickening, stabilizing and its high low-shear viscosity. This make is optimal for several industries like food, textile, oil & gas industry, and many more.
Some of the common applications include usage as a natural thickener, emulsifier, bonding agent, stabiliser, hydrocolloid, soil stabiliser, gelling agent, soil stabiliser, natural fibre, fracturing agent and flocculants.
This article goes on to describe the use of Guar Gum in the food industry and several other industries and especially for Ice Cream.
Importance of Guar Gum Powder for Ice Cream
Guar Gum Powder is useful in the making of Ice Cream since it helps it increase mix viscosity. This helps create a smooth and creamy structure. This also help reduce the melting properties of an Ice Cream. The advantage of using Guar Gum is that it has a higher viscosity compared to other hydrocolloids.
The other properties that gives it an edge is a highly effective binder, plasticizer and stabilizer and emulsifier. The fact that it is a polysaccharide with high galactose and mannose is also of significance. These properties make it vital to the food industry, especially for Ice Cream.
As a stabilizer, Guar Gum Powder helps improve the creaminess and reduce wateriness in the Ice Cream besides which it has a water thickening capacity of up to eight times that of cornstarch. One of the other advantages being that it also reduced crystal growth, shrinkage, and melting during storage. It is also beneficial in decreasing the fat content and increasing water concentration in the formulation.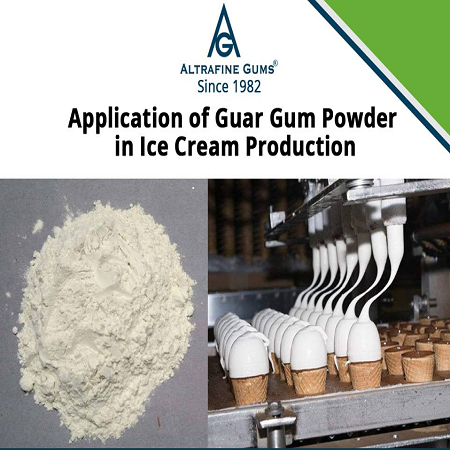 Guar Gum Application in Other Food Products
It has several useful properties that make it invaluable to the food industry. For example, it is used as a moisture-preserving & fat retarding agent in the bakery. It also helps reducing water and aids oil separation sauces and salads. It is useful to produce high-grade confectionery, low-calorie beverages, and as a thickener in pet food.
Some of the popular applications in the food industry are listed here:
Increase in the shelf life bakery products and also helps improve texture, overall structure, crumb, moisture retention and dough yield.
Has better sheet formation of noodles and improves moisture retention.
It is a good viscosifier thus is vital to the pet food industry.
Absorbs free water and prevents excessive stickiness in pastry ices.
Improves the texture and flavour of processed cheese. It is useful as a stabilizer.
Improves feel, shelf life, the viscosity of beverages.
Fulfils the soups requirements with its application as a thickener and stabilizer.
Useful as a  binder for sausages. It is useful for several meat products since it absorbs free water and improves the flow rate and also helps prevent separation and migration.
Improves the flow properties in dressings and sauces and also helps as a thicker and emulsion stabilizer.
Guar Gum Powder is vital to several industries like the tobacco industry, pharmaceutical industry, etc. It also has several applications like for oil well stimulation, mud drilling, oil well fracturing, water-based & brine-based drilling fluids. It helps reduce friction in drilling holes and reduce the power requirements. It is also useful for drilling aid in water drilling, oil well drilling and geological drilling, explosives, etc. It has the right set of properties that also make it perfect for Ice Cream as well.