The plant-derived polysaccharides function as good stabilizing and thickening agents, and are major components of processed foods. The cassia gum falls into this category, allowed up to a maximum level of 0.75% in food. It is used mostly in combination with other colloids for these functional effects including moisture retention and texture improvement.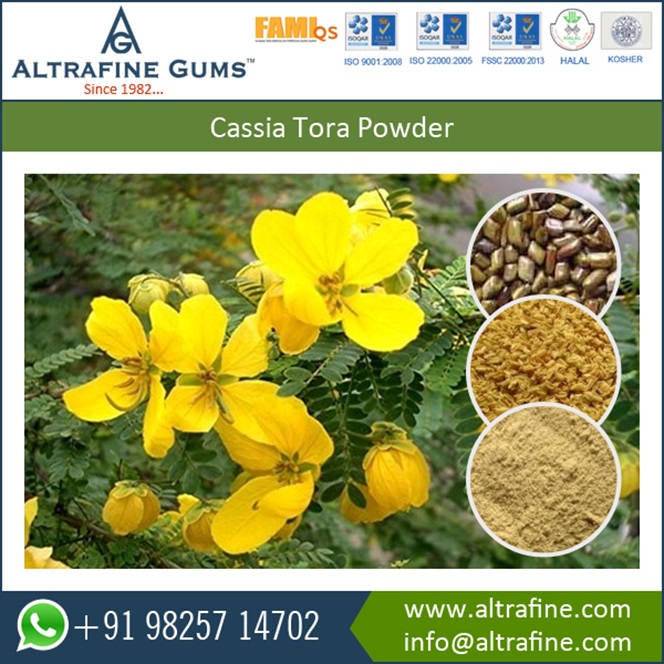 Recognition as a safe product depends on;
Various published safety data regarding similar polysaccharide gums.
Documented review of animal feeding studies done on cassia gum and other gums,
Published studies of the toxicity of anthraquinone impurities on the seeds;
Approved Chemical Formula and Physical Properties
The cassia gum has at least 75% polysaccharides with a linear chain of mannopyranose and galactopyranose units in a ratio of 5:1. This formula is revealed through a sugar analysis using the HPLC method.
Recognised Physical Properties
Appearance : off white to beige smooth powder
Neutral odor towards slightly fruity
Has a bulk density of 0.6kg/l
Average particle size according to a sieve analysis of less than 250 micrometers
Dissolves easily in cold water to create a colloidal solution
Exhibits a PHI of 6.5 – 8.5
Cassia Gum Powder – Approval in Europe
Cassia gum has been approved in the Europe under the commission directive EEC No. E499, and is listed in the annex of the council directive (70/524/EEC) as a stabilizer, thickener as well as gelling agent in the manufacture of canned pet food. It is recognized as a "GRAS" for use in food up to a maximum level of 2%.Main uses are in baked foods, cheese, jams and jellies.
Cassia Gum Recognition in Japan
In Japan, cassia gum is recognized as a food additive by the ministry of health and welfare under announcement number 160(10/08/1995).
Cassia Gum Compliance in USA
The United States has recognized cassia gum for usage as a thickening agent in human and pet foods. Research done has available data showing that the gum has no toxic effects on animals and human beings. From the panel of experts review in the united state, cassia gum has been "Generally recognized as safe" (GRAS) in the conditions of use as a thickening agent in foods.
In Australia, it is approved for use in the Australian market by the government.
Food and Agriculture Organization
Independent research done By FAO concluded that the cassia gum is stable agent of any chemical modifications for a minimum of 20 months. Any changes detected are within the limits of specification. The gum is hygroscopic until a moisture level of 8 – 12% is achieved. The cassia powder, when used at the recommended levels and it does not interact with the nutrients. There are also no degradation products from cassia gum in the foodstuffs.
Conclusion
The cassia gum powder is a natural polysaccharide that is a good thickener and stabilizer used in the food & pet food processing industry. It has been recognized as a safe product globally after intensive research, and has been classified as "Generally recognized as safe" in food when used according to the stipulated levels. The product has also been approved for use in most countries through official registration, such as in the European Union, USA, china, Japan and many more nations around the world.