Altrafine Gums is a company involved in the production and marketing of high quality natural gum products such as the guar gum powder, cassia tora powder, tamarind kennel powder, sesbania gum powder, fenugreek gum and other related products. The company has gained reputation as a market leader in quality gums production and sales.
We have been in existence for over 35 years now, and have a great wealth of experience in the products that the company manufactures.
The company's success has been achieved through engaging in intensive research and innovation in extraction and processing methods that deliver high quality products and are cost effective.
The company aims to be a global leader in manufacturing and export of the gum extracts and many more products under research.  Our mission is to develop great relationships with our clients through excellent customer service, innovative and customized products that will address the real needs of the market.
We have a vision to provide high quality products to the international market to meet global needs for natural gums and contribute to the advancement of humanity. We believe in honesty, integrity and incorporation of the best business ethics in all our operations and this has helped the company grow in leaps and bounds.
The management team is composed of highly experienced directors led by Mr. Manibhai. B. Patel , who has been pivotal to the growth and success of the organization. A strong team of technical and marketing specialists supports him to ensure the strong growth trend is sustained. Some details of our products include-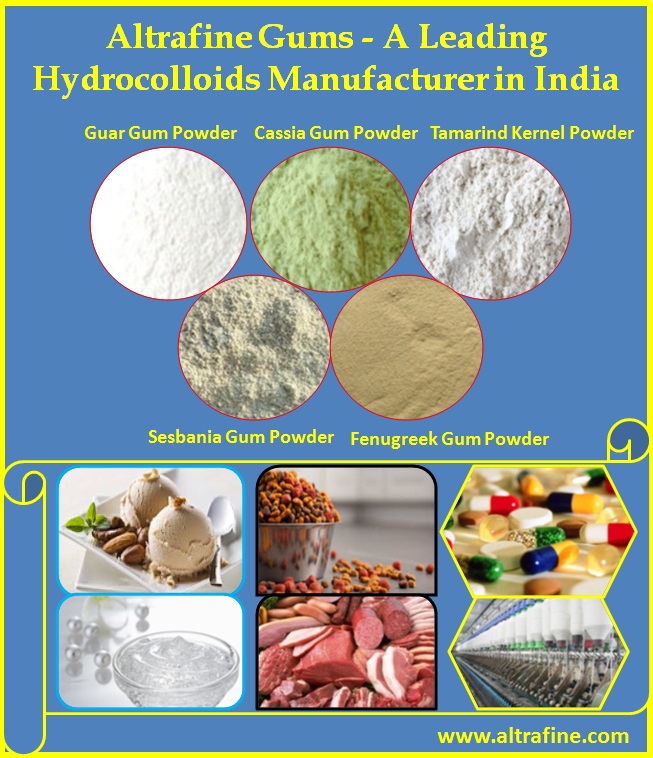 Guar Gum Powder
It is extracted from the endosperm of the seeds of the guar plant. The usable form of the gum is as the guar gum powder and is widely used in industry primarily due to its ability to form a gel in solution. Guar Gum Powder is used as a thickener, emulsifier and stabilizer in various industries such as food and cosmetic production, petroleum, mining, papermaking and many other industries.
Cassia Gum Powder
The cassia gum powder is a natural polysaccharide that is a good thickener and stabilizer used in the food & pet food processing industry. It has been recognized as a safe product globally after intensive research, and has been classified as "Generally recognized as safe" in food when used according to the stipulated levels. The product has also been approved for use in most countries through official registration, such as in the European Union, USA, china, Japan and many more nations around the world.
Tamarind Kernel Powder
Tamarind kernel powder is derived from the seeds of a tree called Tamarindus indica linn, more specifically, the endosperm of the seeds. Tamarind gum powder has been applied in many industries, including pharmaceutical, textile and food industry, owing to its properties as an emulsifier, and its ability to form a gel or solution in water or change viscosity of a liquid (thickener). There are basically two different grades of tamarind gum powder which are used in specific industrial applications like pet food, cattle feed, textile and pharmaceutical industries. These are oiled tamarind kernel powder and the de-oiled tamarind kernel powder.
Sesbania Gum Powder
Sesbania gum powder is one among the important ingredients in the list of gum extracts. Basically extracted from sesbania seeds which bears its origin from china, this gum extract becomes white in color when processed into powder texture. It contains viscous property that is several times higher than guar gum or other types of gum powders. This product is applied in many industries for its highly thickening characteristic and sizing properties.
Fenugreek Gum Powder
Fenugreek seeds are processed to obtain the galactomannan and convert that to powder form. This extracted fenugreek gum powder is applied for medicinal and other industrial production purposes especially food industry.