Indian Guar Gum Business-A Global Focus

The origin of Guar in India can be easily traced back to several years however; this plant was considered mostly for its vegetation for the bean was used as one of the nutritious vegetable varieties. As technology helped people to explore into the usability of plant seeds, Guar bean seeds were targeted by several research people for the tremendous properties it exhibited for industrial applications. The research result was the main factor that lead Indian agricultural scenario to focus specially on cultivating guar plant in India as the climate and soil was found to be apt to obtain successful results. Today, India contributes about 80% of guar production in the world. It has been estimated that India has crossed nearly 2.7 million metric tons during the years 2013 to 2014, say reports.
Strong Roots of Guar Plant Existence in India
There are strong evidences to understand the existence of guar plant in India since the consequences of World War II where there developed considerable scarcity of locust bean. Locust bean seeds were processed and the gum extract from locust bean had been a great source of additive in textile and paper industries in many parts of the world. It was guar gum powder which was then replaced to fulfill the scarcity of locust bean gum as guar gum was found to remain an extraordinary substitute with comparatively more percentage of viscous, thickenings, stabilizing and emulsifying properties. The commercial face of guar gum with global market can be traced back to 1953 since then India has been playing a crucial role in cultivating, processing and exporting seeds and gum extract of guar bean.
Reasons Favoring Agricultural Sector in India to Grow Guar Plant over Commercial Grounds
Guar plant grows in regions with moderate rainfall and temperature and it is a semi arid region like Rajasthan, Haryana, Gujarat, Madhya Pradesh, etc.
It is drought tolerant which is one of the favorable reasons suiting Indian regions mentioned about to grow guar successfully.
Indian states including Uttar Pradesh, Karnataka, Tamilnadu, Andhra Pradesh also appears to share considerable amount of cultivation among the overall.
Serious Consideration of Guar Gum Business
The table given below indicates production profile of Guar plant and subsequent growth helps to understand the strong role played in Indian agricultural and processing industries.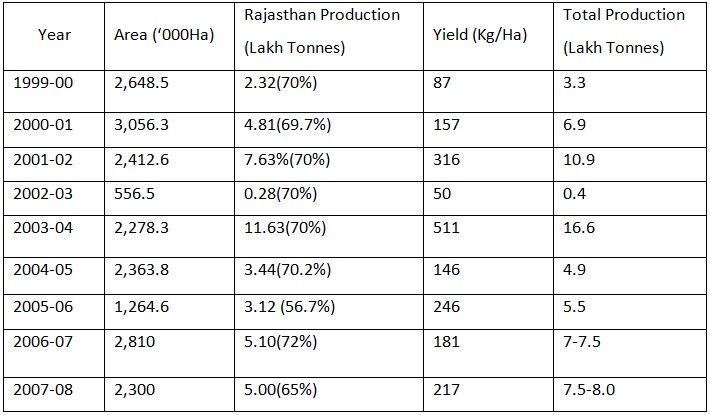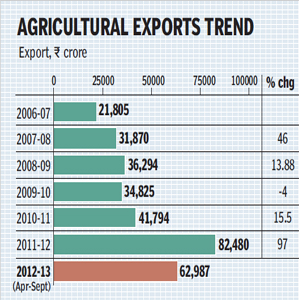 Processing Facilities Available in India
Apart from guar cultivation, Indian industries also play a remarkable role in processing the seeds to obtain gum powder from guar seeds. There is excellent competence in Indian commerce when it comes to plant seed extracts like guar gum powder. Altrafine is one of the leading manufacturers and suppliers of guar bean gum powder and other types of plant seed gum powder in India. We have the latest technical and research facilities to obtain standard and internationally approved genuine guar gum and supply to several parts of India. We have a big list of consumers from abroad for our processed products. One of the strongest reasons for our global popularity is that we directly obtain the raw materials for processing from farmers and hence we are stubborn about quality assurance.
Conclusion
Guar plant is drought tolerant and can grow in moderate rainfall. Many parts of India are filled with similar kind of climate where guar plants are cultivated sharing maximum percentage among the global production. When it comes to processing Indian companies stays in the lead position as they directly obtain guar bean from farmers these are the reasons which agricultural scenario of India contribute for popularity of Indian market.
This Article has been written & posted by Ajit Patel.