The efforts of the current United States government to encourage or increase the level of oil drilling have been a major boost to the Indian guar gum production and processing. This is the reversal of a downtrend ongoing for two years. From November 2016, industry analysts have seen an 8 % increase in guar prices. The general market sentiment is that guar exports to the USA will rise by 25%. The increase in oil drilling sector in the northern America has also added to the positive expectation.
Guar Prices VS Crude Oil prices
The prices of the guar move in direct proportion to the crude oil prices. The drastic decline in crude oil prices created a direct decline in the prices of guar gum powder.  The drop in global crude prices led to decreased shale exploration and a fall in demand of the guar gum powder.
The prices of intermediate crude from west Texas fell from approximately $ 110 per barrel to $ 50 per barrel also created a major effect on importation of guar gum products.
Ware Housing
The accumulation of supplies in the oil companies' stores also contributed to the decline in the price levels.  The establishment of warehouses by Indian businesspersons in the United States, and the subsequent build up of stocks also contributed to decrease in demand.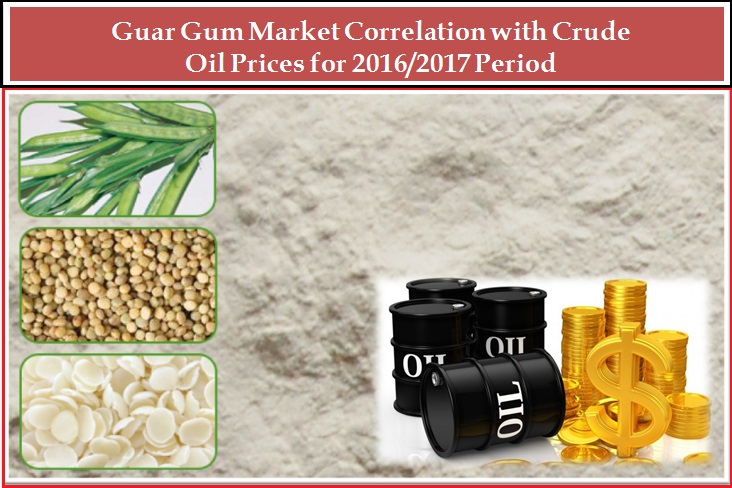 Oil Rig Count
The number of oilrigs in the United States reached six hundred and fifty two in the third week of March 2017. This is the highest level from September 2015. There has been a direct and positive correlation between the active rig count and the crude prices.  A closer analysis at these trends shows that when the crude prices hit the bottom, the number of operational rigs also dropped to minimum. Oilrigs require the guar gum powder for lubrication of the drilling process, and therefore its demand is in direct proportion to the performance of the rigs.
The usage of guar in the oil mining has also helped crude companies produce more oil with fewer rigs due to the increased mining efficiency and performance of the oil wells. This has caused the demand for guar to prevail despite decreasing numbers of oil wells.
Upward Trend
From reliable industry analysts, there is already a good upward trend in the prices guar gum both in the local and in the export market. These have been attributed to demand from the primary oil production industries, and the decreased domestic supply of the product.
The demand of guar by the global oil industry is estimated at 450 000 tons per year. If this production is not met in the current period, there is likely to be an imbalance in supply causing an increase in the prices.
It is estimated that the in the year 2017, the North American oil and gas companies may increase their spending on exploration by up to 30 %. There has also been increased lending from banks to finance oil production.