The sesbania gum powder is extracted from the seed and originated from India. It is white in color loose milky powder that easily dissolves in water to form a sticky solution. The sesbania has been found to have stickiness that is up to ten times more than other gums of plant origin.
Recently the sesbania has generated much interest due to their extensive applications in industry. The gum is relatively cheap, biocompatible and also readily available from agricultural production.
Exports Value
The total value of exports for the sesbania gum powder is approximately 4 million US dollars annually with a total quantity of export reaching over 2.8 million kilograms annually.
Industrial Applications
There has been less research on this crop due to its close similarity in structure to the guar gum.
There has also been increasing modifications in the structure of the sesbania gum to enhance its effectiveness and functional properties in an aim to increase its usage in industry.
In the mining industry, there is also need for more research into usage in more functions to enhance its market. Currently, it is used as an important floatation agent. This is a process involves separating minerals from the waste particles, and therefore it helps in the waste separation process.
Product Characteristics
Under different temperature regimes, the gum may behave like carob gum, and at concentrations higher than 1%, it displays properties of commercial guar gum. With this in mind it has greater advantages than the other gums in the same category. Modified forms of the sesbania such as the hydroxyl-alkylated Sesbania gum have greater applications in industry.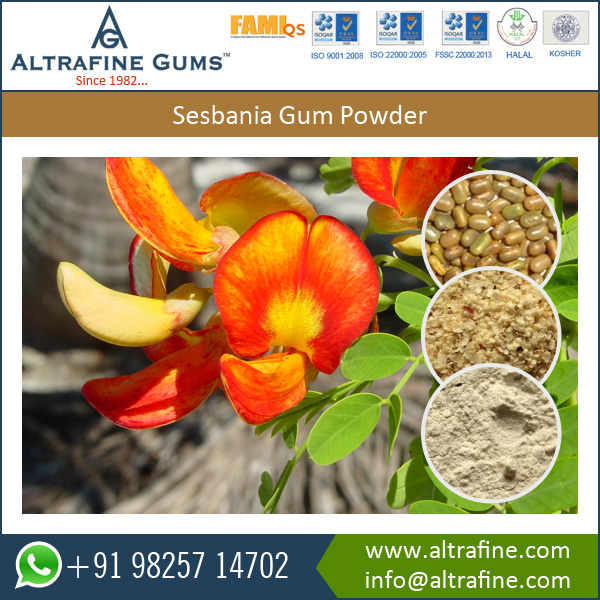 Other Applications
Sesbania Splits; Apart from industrial applications, the sesbania can also be marketed as a good green manure for crop production. In these areas of south and south East Asia, it has been marketed effectively as a soil restorative, to increase the productivity of the crop.
Sesbania Seed; this seed has also been seen as a good source of animal nutrients, and can be grown for production of bird feed mixtures. The plant makes a good cover for ducks and game birds as well as quail foods.
There has been increasing unattractiveness in the usage of the other forms of gums such as the guar gum due to high prices as well as times of product scarcity. Companies in the United States and the world have discovered the sesbania to be an economically viable alternative to the guar gum.
Other research has shown sesbania gum powder to be superior in some qualities than the guar and other gums.
Adoption of New Production Technologies
The sesbania plant can grow on highly alkaline soils and can do well in water-logged soils where other crops cannot be readily cultivated. The plant never requires crop displacement for production and will add more nutrients to the soil. Low production costs of the sesbania gum translate to cheaper market prices and greater returns for the users.
Conclusion
Greater research is needed on the uses of the sesbania gums to develop its demand. Increasing prices and declining production of guar gum may eventually enhance the demand for the sesbania gum powder.