Guar gum derivatives are high valued products obtained through chemical engineering processes and chemical reactions to enhance the action of the guar molecules in various industrial processes.
The petroleum industry is the biggest consumer of the various guar gum powder derivatives. With the deepening oil and gas wells, the conditions for oil and gas extraction have become more demanding in respect to pressure, temperatures, Ph levels and other conditions. The stability of the guar gum is critical with these conditions and development of stable derivatives is important.
Manufacturing Guar Gum Powder Derivatives
Modification by chemical reaction is the most widely used process in manufacturing of guar gum powder derivatives. These processes include;
Carboxymethylation of guar gum
Research has shown that carboxymethylation improves the properties of crude guar gum. Its usage is very important in the hydraulic fracturing process due to the resulting high viscosity of the aqueous solution and the ability to reversibly cross link the material. The resulting single derivative is called carboxy methyl guar (GMG) and has high industrial demand. Double derivative of guar gum has also been produced called carboxy methyl hydroxyl propyl guar (CMHPG) for industrial usage.
Dialdehyde cross linking guar gum is blend using phosphorus oxychloride, sodium periodate and ethanol. Cross linking of the guar gum also reduces the viscosity and swelling power of the guar gum from the increased molecular weight and cross linkages formation.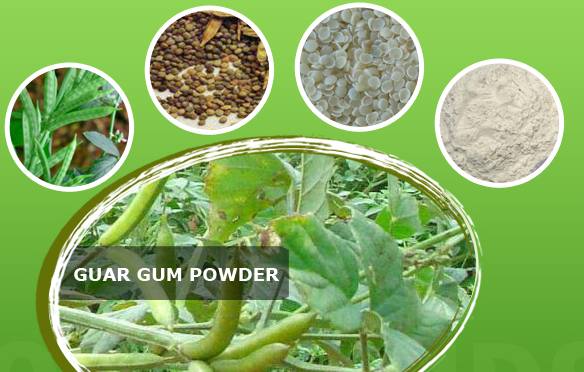 Modification of Guar Gum through Mechanical Processes
Normal manufacturing of guar gum powder is a mechanical process where guar splits are made through conventional milling process and converted to a fine 200 mesh powder.
Slow hydrating guar gum: Guar splits are grinded in coarse particle size and reduced prehydration, and higher pore sieves to achieve coarser powder with dehydrating properties.
Fast hydrating guar gum: In this stage, prehydrated over swelled guar splits are grind to fine particle size to achieve fast hydrating properties.
Hydrophobically modified guar gum: This is a new development in guar gum derivatization that resulted to a new category called hydrophobically modified polysaccharides (HMPS). This class of polymers possesses both hydrophilic and hydrophobic parts. It has been observed that the HMPS are very efficient viscosifier of aqueous media.
Industrial Importance of Guar Gum
The synthesized guar derivatives have extraordinary features. When compared to the parent polymer, the low viscosity of the grafted guars makes them less damaging to the underground formations.
In addition to the oil and gas extraction industry, guar gum powder and guar derivatives have applications in the paint and ink manufacturing. They may work as dispersants and thinning agents due to ability to lower viscosity and reduce the shear thinning. Synthesis of surfactants can also be done from the hydrophobic modified products of carboxy methyl guar.
Conclusion
The guar gum powder has numerous physical and chemical properties that make it a suitable product in various industries. The chemical structure allows it to be modified to obtain derivatives of desirable properties that are much less expensive, bio degradable and eco friendly.