Food Safety and Certification Schemes
Food certification schemes are proposed to obtain reliable standards which in turn remain safe for the consumers to make use of the food products and food ingredients reliably. FSSC 22000 is one of the highest certifications provided for food safety. It is internationally accepted certification that is based on existing ISO standards. Altrafine Gums is a leading gum powder manufacturer in India that works with proper FSSC 22000 Certification.
Advantages of FSSC 22000
It is ISO-based accreditation process that supports for improving business scope for food industries in development, manufacturing and distribution. Complete food safety, management auditing and subsequent certification helps for systematic business enhancement and consumer's trust on the company.
Standard Norms Required to Obtain Documentation
Obtaining proper documentation for food industry over global acceptance is very important for both consumers and manufacturers. The certification standards include evaluation of various phases in the food industry starting from processing to application of consumable and safe ingredients, grading, packaging and distribution. Altrafine Gums has the privilege of being an ISO 22000:2005, ISO/TS 22002-1:2009 and FSSC 22000 certifications company in India as well that favors our products to hold good demand in world market.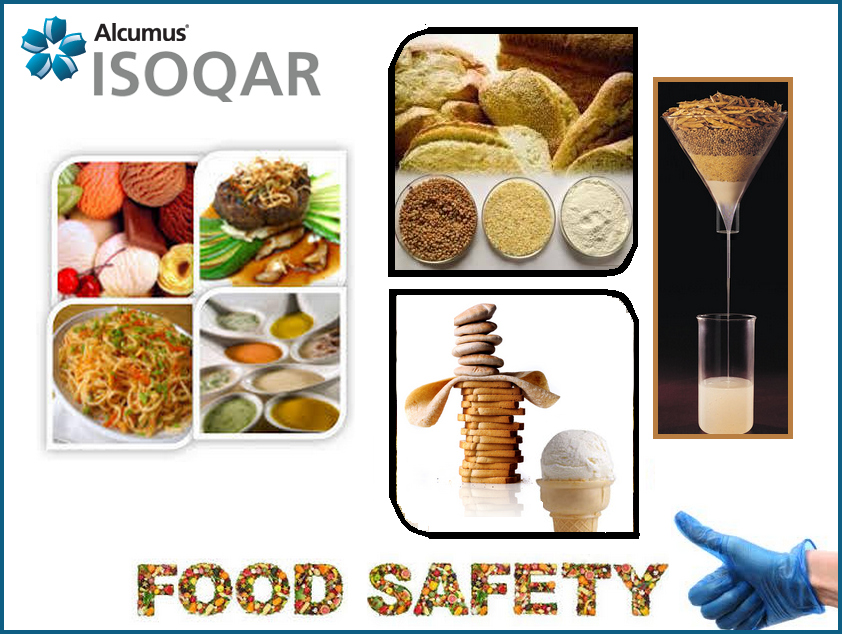 Evaluation of Guar Gum and other Gum Extracts
Our Gum powder manufacturing process is subject to regular monitoring by ISOQAR through successfully completing auditing of food  and food ingredient safety and management systems. All our Gum powder varieties are tested for Performance Reaction Process prior to certification.
Steps involved prior to Certification Audit
It is the company's responsibility to prepare for onsite auditing which includes ensuring good practice in manufacturing, packaging of food grades in accordance with transport safety, shelf life, and distribution of food products on time. When it comes to Gum powder preparation, it involves identification of the product into vegetable or animal product and processing the same under strict monitoring by ISOQAR.
Reviewing Process
Only licensed certification organizations that are linked to FSSC by all legal terms are eligible to issue FSSC documentation. The process includes analysis and verification of overall production unit under proposed regulatory accreditation bodies which in turn finalize the report by stating if the company has been ensured of all the regulations of FSSC. Altrafine Gums is monitored by ISOQAR that supports for reviewing and analysis.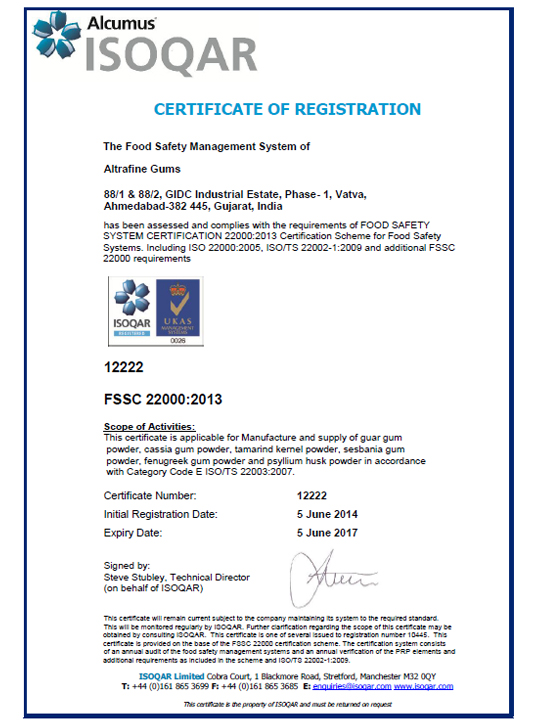 ISOQR Accreditation
ISOQR is one of the independent certification bodies operating in UK which is accredited to FSSC 22000. It holds the power to conduct audit in organizations over diversified norms including quality, maintenance of production premises, production environment, food standards, etc.
Steps Involved in Obtaining Food Certification
There are some important steps involved in achieving FSSC 22000 certification. The first thing is to apply for registration by filling questionnaire which will be followed by judgment of FSSCC 22000. This is an additional qualification of food companies which already have obtained ISO 22000.
Maintaining Trust in Domestic and International Market
We maintain genuine methodology in processing endosperms and in obtaining higher grade of gum powders including, guar gum powder, cassia gum powder, tamarind gum powder, sesbania gum powder, fenugreek and psyllium husk powder etc.
Conclusion
FSSC 22000 is an ISO-based chain approach that serves companies that manufactures food products, food ingredients and end use food products like guar gum powder. It helps for maintain safety aspects of food products as well and remains an important feature to improve business in global market.
This Article has been written & posted by Ajit Patel.