Maintaining healthy soil is important for sustainable agriculture and long-term crop productivity. Soil degradation, nutrient depletion, and loss of soil structure are some of the challenges faced by farmers worldwide. To address these concerns, researchers have turned to natural alternatives that can boost soil health without harming the environment. Cassia Tora powder has emerged as one such solution, offering promising results in soil enhancement.
Cassia Tora Powder Improves Soil Structure
Cassia Tora powder acts as a natural soil conditioner, improving its structure and texture. It enhances the aggregation of soil particles, leading to better aeration and root penetration. Improved soil structure allows plant roots to access nutrients and water more efficiently, leading to healthier and more vigorous plant growth.
Cassia Tora Powder Enhances Water Retention
The hydrophilic properties of Cassia Tora powder enable it to retain moisture in the soil. It forms a gel-like substance when mixed with water, preventing water loss through evaporation and enhancing water availability to plant roots. This water retention capacity is particularly beneficial in arid and drought-prone regions, where efficient water management is crucial for crop cultivation.
Cassia Tora is a wild plant and weed found largely in tropical regions of many countries. Its seeds have natural gelling properties that can be used in several industries. It can be incorporated into food and cosmetics to produce various kinds of gels, such as emulsions, coagulants, and stabilizers. The powder is also useful in wastewater treatment processes, such as flocculation.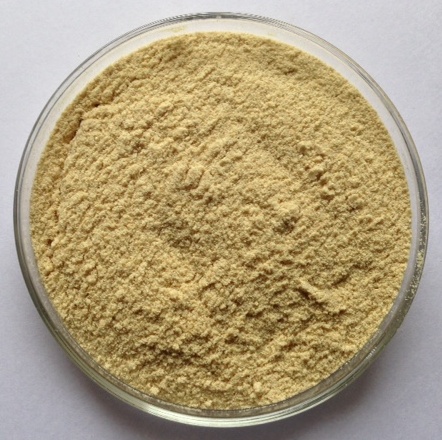 Cassia Tora Powder Increases Microbial Activity in Soil
Cassia Tora powder serves as a natural stimulant for soil microbial activity. It provides a favourable environment for beneficial microorganisms, such as bacteria and fungi, to thrive. These microorganisms play a vital role in nutrient cycling, decomposition of organic matter, and suppression of harmful pathogens. Increased microbial activity promotes the overall health and fertility of the soil ecosystem.
Cassia Tora is a weed that grows throughout India in dry regions. It has a remarkable restorative value and is used for multiple industrial applications. It also plays a critical role in wastewater treatment as it acts as a flocculant to remove large suspended particles and turbid substances from water.
The seeds of the plant are primarily comprised of an outer husk and ovary or germ. To make cassia tora powder, the seeds undergo several mechanical cleaning steps and are subjected to thermal and mechanical treatment resulting in the splitting of the seeds and purification of the endosperm. The splits are then ground to a fine powder.
The physical, mechanical and thermal properties of the seeds and meal are significantly affected by their moisture content. The particle size distribution, elongation index, bulk density and viscosity of ground Cassia tora seeds vary with their moisture content. Moreover, the thermal conductivity of ground seeds and meal decreases with the increase in moisture content, which is similar to previous findings for many other seed species.
Cassia Tora Powder Enhances Soil Nutrients
The nutrient-rich composition of Cassia Tora powder contributes to improved nutrient availability in the soil. It acts as a natural fertilizer, releasing essential nutrients gradually over time. This slow-release mechanism ensures a sustained nutrient supply to plants, preventing nutrient deficiencies and optimizing their growth potential.
Cassia Tora powder is a naturally-occurring plant that has been shown to increase the availability of essential micronutrients to plants. It also improves soil structure and increases the amount of water and air that is available to the roots. It also has antioxidant properties and protects against oxidative stress-induced DNA damage.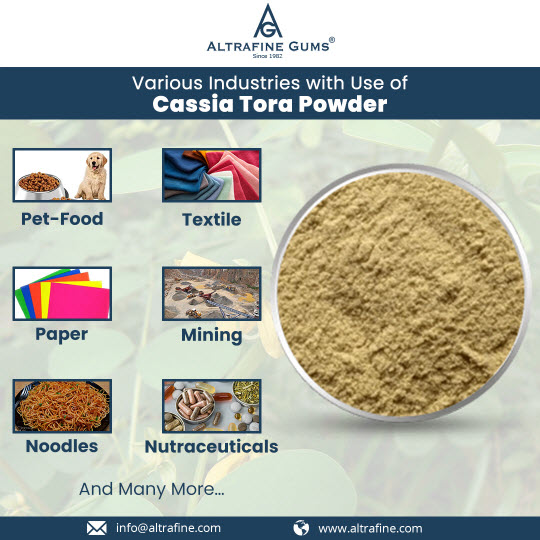 Cassia Tora Powder Suppresses Weed Growth
Weed infestation is a common problem faced by farmers, competing with crops for resources and reducing yield. Cassia Tora powder exhibits natural herbicidal properties, effectively suppressing the growth of weeds. It inhibits seed germination and root development of weeds, reducing their presence in the field. By controlling weed growth, Cassia Tora powder helps in maintaining a weed-free environment for crops to flourish.
Various types of weeds cause great harm to farmers by reducing agricultural yield. They also require a lot of time and money for removal. Hence, farmers should take all the measures to prevent their growth. Cassia Tora Gum powder has been proven to be effective against weeds.
Cassia tora seeds are processed to acquire different types of products including meal splits and gum powder. These products are used in diverse industrial applications. This plant grows in warm and tropical regions of the world.
Application Methods of Cassia Tora Powder
1. Topsoil Application
Cassia Tora powder can be applied directly to the topsoil before planting or sowing seeds. It is evenly spread over the soil surface and incorporated into the top layer using shallow cultivation or irrigation. This method ensures the uniform distribution of the powder throughout the root zone, maximizing its benefits.
2. Compost Enhancement
Adding Cassia Tora powder to compost piles enhances the decomposition process and nutrient content of the compost. The powder accelerates microbial activity and aids in breaking down organic matter efficiently. The enriched compost can then be used as a soil amendment, providing a nutrient-rich medium for plant growth.
Seed Treatment
Cassia Tora powder can also be used as a seed treatment to promote germination and early seedling growth. The seeds are coated with a thin layer of powder before planting. This treatment helps in protecting the seeds from pests, pathogens, and environmental stressors, while also providing initial nutrients for seedling development.