Tamarind tree (Tamarindus Indica) is known for its edible pulp of fruit, used in cuisines globally. This piquant fruit is used in edible products and its seeds which were considered as waste earlier are now used to produce Tamarind Kernel Powder, a high value product. A seed is composed of approx. 60% – 65% of kernel.
Tamarind Kernel Powder is rich in:
Proteins
Carbohydrates
Fiber
Oils
Polysaccharides and sugars
It is a viable and optimum component of the manufacturing process of varied products. It has excellent gelling and adhesion properties which makes it a suitable for food and pharmaceutical industries.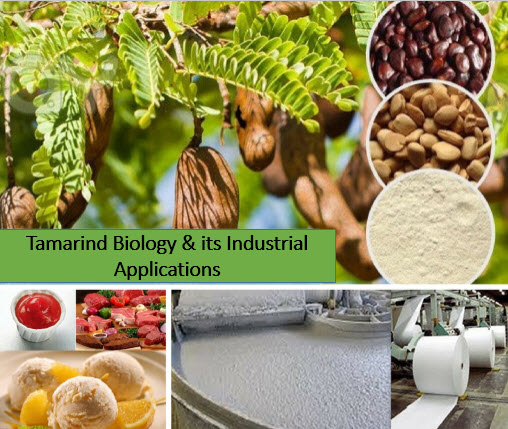 Tamarind Kernel Powder – Food Industry
Tamarind Kernel Powder (TKP) is widely used in the food industry for making products such as ice creams, sauces, flavoring, baked food, pet food and ready to eat edibles such as instant noodles.
Due to its high water absorption properties, it is applied in food manufacturing industry as adhesives. This is also considering it is natural and due to it being rich in protein, carbohydrates and fiber.
Tamarind kernel powder is utilized in the food industry as it is odorless and it can retain high viscosity for the longer period of time. Thus, it serves as an emulsifier and a stabilizer in food grade.
Tamarind Kernel Powder – Pharmaceutical Industry
The white tamarind kernel powder is used in the pharmaceutical industry due to its binding properties.
It also compensates as a solution for sustained and controlled release in ophthalmic medicine and spheroid medicines such as Diclofenac respectively. It is used in direct compression tableting methods and weight granulation.
Its capacity to retain consistency, stress and viscosity makes it ideal for tablet production. Thus, it has various medical applications for orthopedic, skin-care and several other health benefits. Tamarind kernel extracts are well known for their capacity to boost elasticity and hydration of the skin.
Tamarind kernel Powder has been considered a good solution for healing several ailments such as;
Treating Fractures and broken bones.
Boils and  dysentery
Lowering blood sugar
Anti-viral agent
Its thickening property makes it an effective delivery system for ocular drugs by prolonging exposure of medicine to the eyes. The tamarind kernel extracts serve as an excellent moisturizer for the eyes.
Some Other Uses
In addition to the above applications, the tamarind kernel powder is also considered as a vital ingredient in the below-mentioned industries:
Textile industry – As a textile thickener and sizing agent
Dye Industry – For sizing
Paper, Printing industry – As printing paste and as paper glue
Explosives industry – As a thickening agent
Agriculture – for creating fertilizers
Wood Industry – Woodworks and of plywood  manufacturing
Cosmetic industry- As an antioxidants
Oil and gas industry – Drilling & Stabilizing soil
Tobacco industry – As adhesives
Paint Industry- for thickening purpose
Conclusion: Tamarind and its derivative such as Tamarind Kernel Powder are valuable by-products. It contributes to the manufacturing of the food and pharmaceutical products to certain extent due to its exceptional properties.
About Altrafine Gums
At Altrafine Gums, we use quality tamarind seeds which are processed by cutting-edge manufacturing system to produce a supreme grade tamarind kernel powder.
The company has earned prestige by offering a range of high-quality products such as Guar gum powder, Cassia Tora Powder, Psyllium Husk & Powder, Sesbania Gum Powder, etc as well as unmatched customer service to the clients throughout the world.