Sesbania bispinosa / aculeate also known asPrickly sesban, is a legume plant which is cultivated in India.It is an annual plant that grows from 0.6 to 3 meters long and has a woody stem.The seeds of this plantare processed to get Sesbania Gum powder.It is used in various industries such as Textile, Oil, Waste Water Treatment, Mining etc due to its properties of viscosity and solubility in cold water.
Some facts about Prickly sesban!
The plant is used as a green manure crop.  A green manure is created by leaving uprooted or sown crop plants on the field to serve as mulch and soil amendment.
It is often used as major crop of crop rotation and hedge plant in paddy cultivation.
The genus name Sesbania is a Latin version of the old name "Sesban" of Arabic origin.
It is used as fodder, shade and hedge plant.
The plant is classified as 'Least Concern' in the International Union for Conservation of Nature (IUCN)Red List of Threatened Species(2013).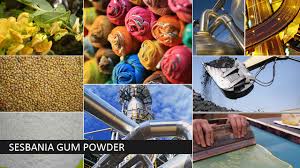 Reasons: India is the major exporter of Sesbania Gum Powder
Suitable Climate
India has a suitable climate which promotes the growth of Sesbania bispinosa.
Climatic conditions required to grow this plant are:
It requires hot and humid temperature.
It requires plenty of water.
It can grow in most of the soil types including saline.
Due to such favorable climatic conditions, it becomes easier for supplier to get Sesbania seed out of which powder is produced.
Modernization in farming by skilled farmers
With the awareness about the use of sesbania gum powder, the farmers started growing its plant as a major crop to yield better incomes.
When many farmers started its cultivation, the innovation in farming took place. It is truly said by Debbie Stabenow on modernization in farming: "Agriculture looks different today – our farmers are using GPS and you can monitor your irrigation systems over the Internet."
The farmers are skillful and adapt new technologies in farming to increase the production.
The farmers have adopted Precision Farming which is based on Information Technology.  It reduces the some of the risk. Thus, it is environmentally sound and it can help to sustain natural resources.
GPS (Global Positioning System) and Geographical Information System (GIS) are the technologies used in Precision Farming.
It becomes easy for an exporterto exportsesbania gum powder due to its constant availability.
Availability of Infrastructure:
Indian Government has furnished farmers with a great infrastructure that has motivated the growth of Sesbania plants.
Input based infrastructure: The farmers are facilitated with Quality Seeds, Fertilizers, Pesticides, Farm equipments and machineries etc. to cultivate good quality yield.
Resource based infrastructure:They are provided Water/irrigation, Farm power/energy, etc to support the cultivation process.
Physical infrastructure: The excellent infrastructure of Transportation, Storage, Processing, Preservation, etc helps farm suppliers to supply the high grade goods in market.
Institutional infrastructure: The farmers are helped with Agricultural research, Education of technology, Information & Communication services, Financial or Banking services, Marketing, Export Opportunities, etc. to make their work hassle-free.
The Government encourages exporters to export the products by providing relief and promoting the goods.
Cut throat Competition
Often it is said that, competition increases the ideas and innovation as well as enhances the quality of the work.
Adopting new farming techniques has resulted into high and quality productivity per unit of land.
Gettingthe high quality of Sesbania Gum powder is necessity to fulfill the industrial requirements.
The buyers across the globe purchases Sesbania Gum powder of good quality at reasonable rates from India due to competition.
The company manufacturing this powder must maintain the consistent standard of goods and incomparable services to sustain in competition.
Global Demand of Sesbania Gum Powder:
The farmers cope up with the demand of Sesbania Gum powder by the sweat of their brow. The usage of Sesbania Gum powder is increasing and so as the demand.
The demand is more often from Oil drilling industry where it is used as floatation agent, in Food as additive,in Textile as sizing agent, etc.
Sesbania Gum Powder is emerging as India's largest item of farm exports since 2012.
The total value of exports for the sesbania gum powder is approximately 4 million US dollars annually with a total quantity of export reaching over 2.8 million kilograms annually.
Why Aftrafine Gums?
Altrafine Gums came into existence in 1982. They are delivering quality goods and outstanding services since past 36 years.
They have a wide network with Sesbania growers who provide quality raw materials. They have excellent infrastructure and proficient R&D department which helps them to manufacture superior quality of Sesbania Gum powder.
Besides this, the company supplies products such as Guar Gum Powder, psyllium husk powder, Cassia Tora Powder, Locust Bean Gum Powder, Indian Spices & Seeds, Animal Feeds Products, etc to various industries such as Food, Textile, Tobacco, etc successfully.
There was always a huger of success which propelled them to explore and adapt new technologies in the company.The company received the reward for its hard work when it was awarded as the first winner of Biggest Exporters, Gujarat.