Guar Gum is derived from the endosperm of guar beans (cluster beans). The seeds of a Guar plant consists of three main parts, the germ, endosperm and the husk.  The way this is processed involves removing the husks, followed by process of milling, filtering to produce a slightly yellow powder that is flowable. Guar Gum Powder is derived from Guar Gum that is native to the tropical region of Asia.
Important Properties & Applications
Guar Gum Powder is useful as a thickening agent, emulsifier and a stabilizer. Here are the main properties listed here:
Ability to hydrate rapidly in cold water and attain very high viscosity with low concentrations.
Soluble in cold water but insoluble in several organic solvents.
Strong hydrogen bonding properties.
Very good thickening, emulsion, stabilizing and film-forming properties.
Viscosity depends on temperature, ph level, presence of salt.
Shows resistance to oils, greases and solvents.
It has several applications in mining industry, petroleum drilling, textile manufacturing and food industry. It has widespread applications in the food industry as an additive. It is invaluable for purpose of baking. The benefit being it increases the shelf life of all baked produces mainly due to its ability to absorb excess water. It is useful in enhancing the softness and quality of bread, it also helps reduce time and effort for preparation of the batter. Besides being very useful for baking products it is useful for several other food products like frozen foods, the meat industry and pet foods.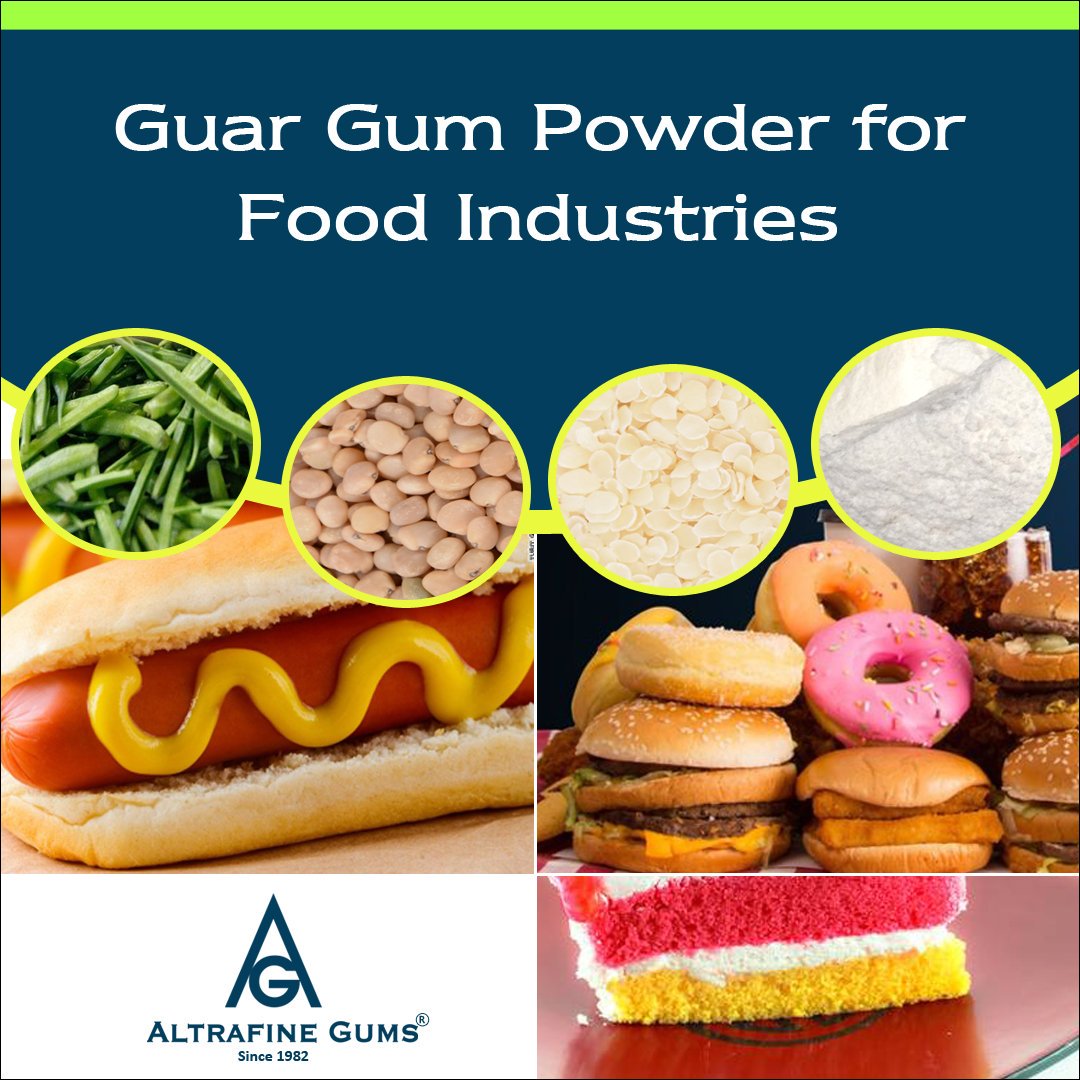 Use of Additives for the Baking procedure of Biscuits
Guar Gum can be used for many different baking purposes and there is a different amount for each recipe. For example, if used for bread & pizza dough recipes you need to add 1 teaspoon of guar gum powder per cup of gluten-free flour, if used for cake or muffin it is necessary to add half a teaspoon per cup of gluten-free flour. As for when baking biscuits it is also advisable to add half a teaspoon per cup of gluten-free flour that is being used.
Advantage of using guar gum powder is that it is odourless, easily soluble in cold water and is free-flowing. It provides texture to the flour and it also responsible for providing elasticity that ensures bread fluffiness and chewiness. It is very useful for purpose of baking especially for the dietary management of a diabetes patient.
It is very useful as a binder during the baking process of biscuits. The purpose of a binder is to bind protein and starch molecules to ensure a good structure is formed for the baked products. It is vital when using gluten-free flour since it can form a network. Using a binder can strengthen the protein networks in various flours used in gluten-free baking. A binder as the name suggests if the true glue that keeps everything in place and binds all ingredients together. A binder is responsible for keeping the biscuit in place and prevent it from falling apart.