The high dietary fiber content in the guar gum has made it become product of interest among nutritionists. One of the main uses is in the management of stomach ulcers.
Development of Peptic and Duodenal Ulcers
Stomach ulcers develop because of damage to the integrity of the mucus of the stomach, and the duodenum. This damage produces serious pains and burning discomfort. In biological terms, too much acid in the stomach overwhelms the mucus and causes crater like inflammations in the duodenum. Helicobacter pylori is another common cause of ulcers. These bacteria interfere with the normal acid balance in the stomach leading to ulcers development.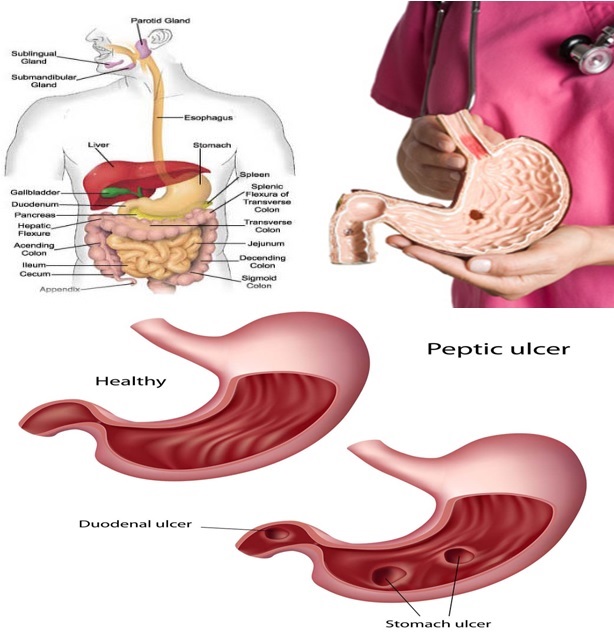 Physiologic Effects of Dietary Fiber in Gastrointestinal Functions
Dietary fiber has a major role to play in the gastrointestinal tract. According to research, soluble fiber reduces the transit speed of food through the digestive system while insoluble fiber "Hurries" food through the system. The gelling properties of the guar gum enable creation of a healthy layer between on stomach wall preventing acid corrosion. Dietary fibers have also been shown to cause a release a variety of hormones leading to increased appetite. They are also found to bind bile acids hence reduction in micelle formation and reduce cholesterol build up.
Role of Dietary Fiber in Preventions of Stomach Ulcers
Conclusions of current research show that diet fiber has a huge effect on the development of stomach ulcers. In one study conducted, 81% of patients who consumed non-fiber diet had ulcers recur while only less than 14% recurrence was observed on those who took high fiber food. Natural gel forming fibers such as high fiber content of guar gum. Research has shown that high gel polysaccharides such as the guar delay the gastric emptying of liquids to the duodenum and preventing occurrence of ulcers.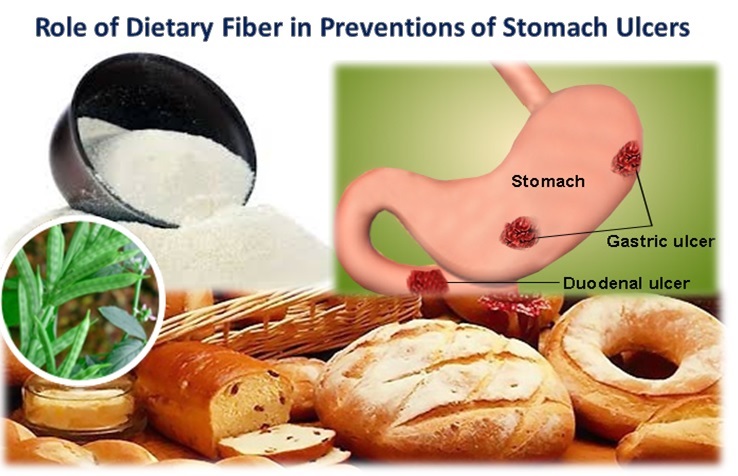 Fiber Levels in the Guar Gum
Partially hydrolyzed guar has 100% soluble fiber content. Its effect on the stomach is profound in the prevention of stomach ulcers. Nutritionists recommend an intake of 38g fiber for males and 25g fiber for females. Guar has very high fiber content thus recommended in the management of stomach ulcers.
Recommended Intake of the Guar as a Fiber Source
The advisable fiber intake according to doctors is 14g per 1000 kcal. The energy guideline intake for women is 2000kcal/day while that of men is 2600 kcal per day. Working with this ratio gives a requirement of 28gms/day for mature women and 36 Gms /day for adult men. Guar gum consumption effectively meets this demand at 25 – 40 Gms per day.
Availability of Guar Gum
The Indian subcontinent is the largest supplier of guar gum. This is due to the ideal production conditions on various parts of the continent and advanced technology for processing the product. At "Altrafine Gums", high quality processing of the guar is done to produce certified food grade guar gum powder. The high quality of guar gum powder is packed in well-insulated bags and also available as per customer requirements.
Conclusion
Stomach ulcers develop due to acid imbalance in the body. Dietary fiber has been proven effective in the management of stomach ulcers. In addition, fiber has other benefits in the digestive system such as regulation of food flow, management of constipation, and improvement of appetite.
This Article has been written & posted by Ajit Patel.