The busy lifestyle often forces one to intake processed foods on daily basis. The processed food contains gluten and very less fiber in it. And, consuming it regularly, has its own consequences to name some of them are weight gain, diarrhea, constipation, heartburn, nausea, and many more.
But now, the times are changing so as the perception and choice of the people regarding food consumption around the world. The awareness about the necessity of fibers in diet is widened and it has given immense rise to the usage of psyllium husk powder.
What is Psyllium Husk Powder?
Psyllium husk powder is derived from the seeds of Plantago ovate. This is a medicinal herb plant, usually grown in India.
Pyslium is commonly known by the name of Isabgol. It contains two types of fibers in it viz. Soluble and Insouble, both of them are vital to maintain proper health.
The usage of psyllium can relieve constipation, diarrhea and may prevent colon cancer as it cleanses the colon. It can also control cholesterol and blood sugar levels.
Growth of Psyllium Husk Powder Market
The market of Isabgol husk powder is expanding due to its versatile application which is clarified further in this article.
The psyllium husk and industrial powder are majorly imported by countries like United States, United Kingdom, Germany, South Africa, Australia, France, Canada and many more.
Amongst all the countries, USA is the largest buyer which imports 75% of total husk exported by India.
And, Germany is the largest single importer of psyllium seeds.
India dominates the world market in the production and export of psyllium. India provides approximately 80% of the psyllium available in the world market.
According to DGFT data, India exported 29,343 tonnes of isabgol in 2011-12; 32,465 tonnes in 2013-14; and 32,325 tonnes in 2014-15. Since then, its export has been elevating at moderate scale.
According to trader sources, about 90-95 per cent of India's isabgol production is exported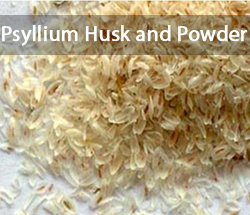 Impact on Agriculture due to expansion of Isabgol Market
The increasing demand of isabgol has given rise to strategic cultivation of psyllium in India.
Various researches have been conducted by agriculture universities to improve its quantity and quality.
 Resultantly, it was witnessed that its production was intensified in various states of India.
 Gujarat itself contributes 35% of world production of psyllium Husk
Application in Varied Industries
As the customer has become conscious about their well-being, the producers also initiated use and application of psyllium in wider aspect in their production process. It is used for its excellent water solubility and probiotic properties.
It is available as fiber supplement in the form of powder, husk or even in capsule form. The industries which use it intensively are listed below:
Bakery
Psyllium is a healthy choice for people nowadays.
This gluten-free substance is used as binding agent in bread making industries
Medical Applications
It has massive health favored benefits.
Its usage can boost heart and brain health. Thus, it is recommended by many health specialists to their patients.
As it is considered as paleo-friendly food, it is used to control and reduce weight. Many dieticians also promote its utilization.
It also serves as a good binder and disintegrants in making compressed tablets.
Confectionary
Today, customers are not just looking for sweet indulgence in confectionary but also naturalness and health.
So, the producers initiated producing low carb confectionaries with the help of psyllium. It is a natural gelling agent which can make sweets softer and enhance its natural color
Some other uses
Psyllium seed husks are used as a base and for sizing purpose in cosmetic industry.
It is also used as cattle and bird feed
Conclusion
The market of psyllium husk powder is expanding and to gratify its growing demand, Indian Government has asked to undertake its planned farming and also to innovate value-added products from isabgol.
If you are a producer, you may want to enhance your products using the best quality of psyllium or may be even your health if you are using it for personal care.
Altrafine Gums can provide you the best quality of psyllium husk and powder.
Who we are?
Altrafine Gums is a foremost producer, supplier and exporter of well-processed Pysllium Husk and Powder since 1982. We also offer supreme quality of Guar Gum Powder, Fast Hydration Guar Gum Powder, Cassia Tora Powder, Sesbania Gum Powder, Guar Meal and many more. Our technological staff and efficient R&D department works constantly to satisfy our client's specific demands by providing quality products and services at reasonable rates across the globe.