There has been a lot of interest in the plant gums in the recent years due to their diverse pharmaceutical applications in various industries. Some of these applications include usage as protective colloids in suspensions, gelling agents and diluents, and even as bases in suppository.
Research has shown that the sesbania gum yields a very high percentage of mucilage going up to approximately 33 % of the total content. It contains high molecular weight polysaccharides made up of galactan and mannan units that are combined through the glycosidicbonds, thus making it very similar in structure to other well known hydrocolloids.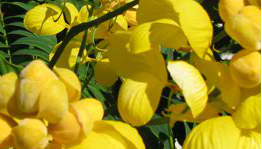 Extraction
The gum is extracted from sesbania seeds, and occurs as a white loose milky powder which is soluble in water and insoluble in organic solvents. In cold water it disperses to form the viscous solution that is much higher than that of other natural hydrocolloids.
Specification of the sesbania gum powder
The main contents contributing to industrial usage are the viscosity. When this is determined using the "brooke field viscometer, at temperature of 25 degrees centigrade, it give a range of 2500 cps minimum to 5000 cps maximum. This level is high and can be utilized for various industrial applications. The powder has a PH range of 5.5 to 7.0 and has been seen to have very low heavy metal content.
Some Industrial applications
The sesbania gum is used in the manufacturing of dye thickeners and as a sizing agent in the textile and other industries.
Flocculation process; the powder is heavily used as a flocculant in the waste water treatment. It has also been used up in the mining industry as an important floatation agent, used in the separation of minerals from the waste particles.
In the petroleum industry, the sesbania gum powder is used as a blockingagent, water resistance – reduction agent and tackifier used in the preparation of fluid cracking for enhancement of oil production rate.
It has emerged that the sesbania seed can be used in the manufacturing of feed for animals such as bird feed mixtures as well as a cover crop for birds.
Properties of the Sesbania Gum Powder
Research has shown that under certain temperature regimes the sesbania gum will behave like certain gums like the carob gum while at much higher concentration it exhibits properties of the guar gum. This discovery has important implications in industry as it has shown that the product can be used to replace the much more expensive hydrocolloids in the market.  Other important characteristics that are unique to the sesbania gum powder include its good release profile, physical stability and good spreadibility which are important to many manufacturing processes.
Production Advantages
Research has shown that the sesbania plant can grow on alkaline soils as well as water logged soils. This is a special property that has not being exhibited by many other plants. This creates a competitive advantage for the sesbania production which can make it more easily available and affordable to sesbania gum manufacturers.