The Guar ( cyamopsis tetragonoloba ) is mainly a spring to summer crop that exhibits high drought tolerance and grown in various regions around the world. The seeds contains galactomanans which have broad applications in various industries.
Some of these applications include softening and thickening properties, flocculation, stabilisation and many other industrial applications.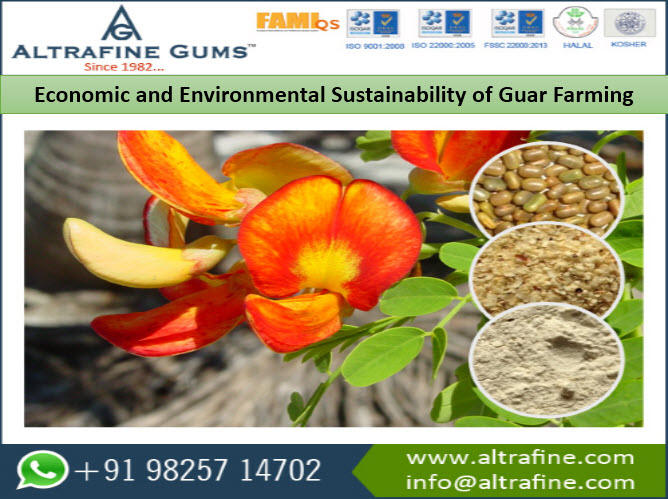 Sustainability
Sustainable crop production is raising crops in ecologically and ethically responsible processes. This mainly includes adhering to the processes of good agricultural practices that will not harm the environment and the crops themselves promote and enhance the creation of a good environment.
Advantages of Annual and Perennial Crops in Environmental Sustainability
The total world production of the guar is mainly from Indian subcontinent which accounts for over 80% to global supply.  Since the development of agriculture, more than one quarter of the earth surface has been converted to agricultural production. The production of crop such as the
guar gum has helped deal with many issues of environmental conservation and food security in a world where resources are rapidly shrinking.
This crop tends to have longer growing seasons and deeper rooting depths where they intercept, retain and utilize more precipitation. Due to the growth habit, they have longer photosynthetic season and longer green leaf duration which enhances the processes of air purification. The presence of a greater root mass reduces the risks of soil erosion and soil carbon losses compared to other crops.
 The growing of this crop provides multiple ecosystem services for sustainable production. Some of these activities include prevention of water pollution and nutrients conservation, storage of more carbon below and development of better pest tolerance.
The fact that the guar gum is drought tolerant makes it among the best crops for environmental conservation and also for conversion of unproductive areas such as the arid and semi arid areas to more productive and environmentally useful areas.
Research
Research on the cost effectiveness and environmental impact of the guar production process compared to other crops has been found to be very low. The guar crop production process has been seen to be less than 3000 kg of CO2 eq emissions and thus a low emissions crop.
Continued industrial usage of the guar gum leads to a direct increase in the demand of the product. There have been fears that this increased demand could lead to deforestation as more land gets cleared for growing of the guar. In this case, environmentalists have given caution against this trend as replacing trees with shrubs may lead to an increase in ground level ozone (O3 ) which is a polluting gas. Despite this, the crop has been used to successfully convert previously arid areas into more productive uses. The guar gum has therefore been seen to have more positive environmental impact than other similar plants.