Derivation of Kappa Carrageenan from Seaweeds
Kappa carrageenan is extracted through a long process. The seaweeds are processed in aqueous dilute alkali and sent through several processing methods to obtain the final form of food grade kappa carrageenan. The three main types of carageenan obtained from seaweed and which are applicable in food industry are Iota, kappa and lambda. These are differentiated in terms of the amount of sulfation and the changes in composition. However, carrageenan composition differs from different red seaweed species. The seaweed flour is not recommended for direct consumption however, it is found to be cheaper than refined carrageenan.
Important Properties that allows for Application in Food Industry
Kappa Carrageenan has good gelling property and it is for the same reason that this ingredient is mainly used in food industry and pet food preparation. However, carrageenan works effectively when blended with other ingredients like locust bead or galactomannan of guar seeds which then provides excellent gelling property.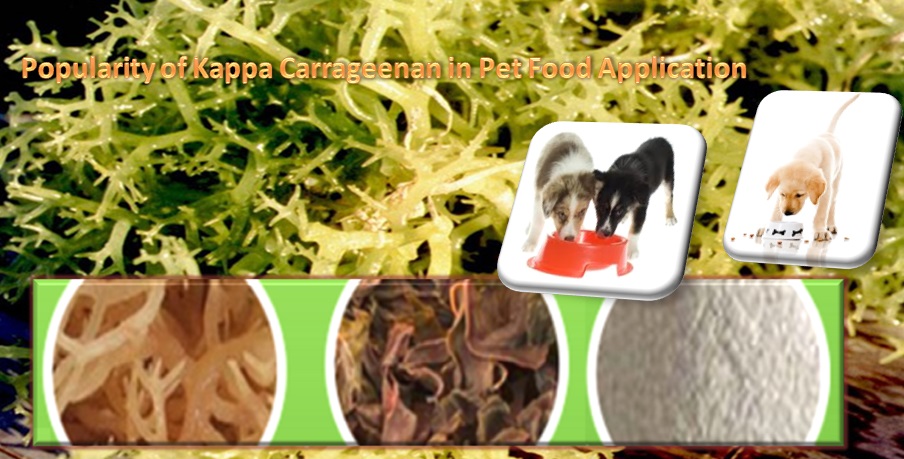 Popularity of Kappa Carrageenan in Pet Food Application
When it comes to evaluation of market value for refined seaweed powder, there is equal demand for both refined and semi-refined kappa extract to be applied in pet food and food preparations globally.
In the beginning it was applied at large in the preparation of dairy products and remained a suitable alternative for soy milk.
This ingredient provides good yield when combined with other emulsifying salts as it provides stability to the food structure and helps to maintain taste and reliability.
Semi refined seaweed is applied 1% in the preparation of animal meat products along with other ingredients to obtain safe, qualitative and productive result than soy milk.
Pet Food Type and Application of Seaweed Extract
Kappa carrageenan has the ability to maintain the texture of the meat and provide good structural reliability to the food product especially canned pet foods. It is widely applied in canned pet foods especially meat variety for it can maintain the food structure and provide good shelf life.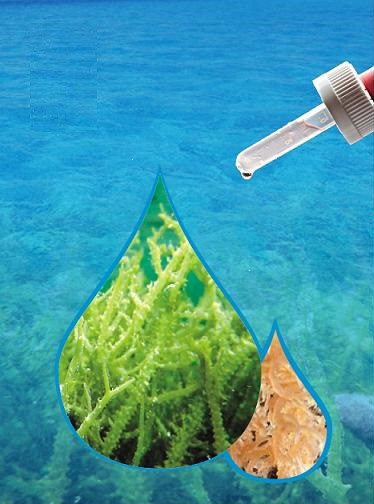 Why Semi-Refined Kappa is preferred in Food Industries?
Extraction of kappa from seaweeds is an expensive process and the price of refined kappa carrageenan is higher when compared to the low cost semi-refined grade. This is one of the main reasons that pet food industries prefer to shift towards low cost or semi-refined kappa extract than the purified one.
Altrafine in the production of Food Grade Kappa Carrageenan
Altrafine is a leading processor and supplier of guar extracts and other processed ingredients. We also supply food grade kappa carrageenan gum powder used in pet food and other food preparations. We are the first manufacturer and supplier of kappa carrageenan extracted from red seaweeds like girgartineaceae, hypaneaceae, etc. The southern and western coastal areas of India stay the main areas where seaweeds are obtained and sent for processing. Altrafine supplied semi-refined and refined forms of carrageenan that are then supplied to several countries especially for pet food preparation and meat processing.
Conclusion
Seaweeds are obtained from ocean and they are processed through several methods to become a suitable ingredient to be applied in the preparation of pet food and processed meat. It works effectively with other ingredients and provides good stabilizing effect for the food especially canned meat prepared for pet animals.
This Article has been written & posted by Ajit Patel.